Biancoseta
Our products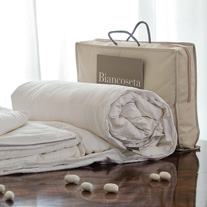 DUVET
Trying a Biancoseta duvet means experiencing absolute excellence in relaxation. The silk is incredibly light and enveloping, warm yet it breathes, which helps your body to maintain a balanced temperature throughout all seasons.
In the vast offer of Biancoseta duvets, anyone will find something to match.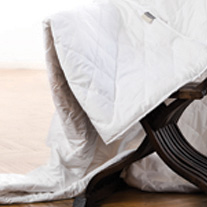 MATTRESS TOP
If adding a touch of absolute wellness to your sleep is what you're looking for, then adding a Biancoseta mattress top to your bed is exactly the thing for you.
The Biancoseta mattress top is a quilt to be used on top of your mattress and gives you a soft,breathing layer to sleep on, free from dust, mites and allergies.
PILLOWS
A Biancoseta pillow is the touch that completes your relaxation wellness, during and after your sleep.
In Biancoseta's range, you will now find the sleeping companion that you've always searched for.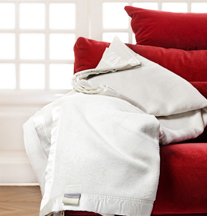 BLANKETS
Their incredible softness offers a sensation to the touch never felt before. Light and anti-allergenic they're sure to provide you with a priceless natural warmth.
Biancoseta blankets are made with only the very finest quality of mulberry silk and are available in a range of warm colours with exclusive nuances.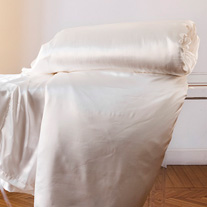 BED LINEN
Refined and sensually woven, it caresses the skin and will change the way you sleep.
Biancoseta offers a marvellously soft and shiny silk collection of bed linen, available in some unique shades of colours and made with the best quality of silk satin. Biancoseta bed linen is made to last and is sure to be appreciated by connoisseurs. We offer our products tailor-made and with customized monogram embroidery, all of our bed linen is woven in Tuscany.